B

R

o

W

4

A Family Fun Day for the Air Ambulances, at Ferry Meadows, Peterborough, Saturday 22nd June 2019
2019 is the 5th year that BRoW4 have held this event and it's a fantastic family day out that raises much needed funds to support the UK's air ambulances.  We will be having stalls selling all sorts of items, children's entertainment, food and drink stalls, and more! For the first time, this year we are going to be having live entertainment too.
If you'd like to know more about this event, keep reading! We have a list of frequently asked questions for anyone wishing come along, and a stall holder form if you'd like to have a stall at our event.
We will also be updating this page frequently to show those stalls and entertainment that we have already confirmed - so please do come back and check here regularly!
Thinking of taking part?
Our family fun day for the air ambulances raises money for air ambulances across England.
The event opens to the public at 10am, and our first live performance on the stage starts at 11am. Our event finishes at 8:30pm, so you have plenty of time to enjoy the atmosphere, the stalls, the children's entertainment, the food and the wide variety of music! Why not make a day of it and bring along seats or a blanket?
Our Compère
Andy J from Andy J Entertainment will be our compère on the stage for this event.
Andy J will be bringing his own positive sense of humour to make 'The Family Party Atmosphere' at this event. For many years Andy J has been a DJ and Children's entertainer, attending events for both adults and children, such as birthday parties and weddings. He has worked both indoors at pubs and clubs plus outdoors events including Bar-B-Ques. Andy J now concentrates on specialising in 'Something Different' Country Music, (Keep it country) with Rock n Roll over the years, which is now proving to be very popular.
Charity Events are something that Andy J enjoys doing. So why not give Andy J a call on 07583 785094 or 01354 6954644 to discuss your entertainment needs.
Entertainment
These are the various acts that will be performing throughout the day, and the estimated time of the performance. Please note that these times may be subject to change.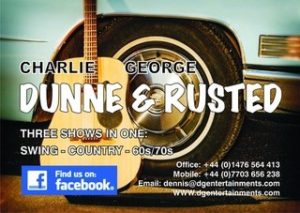 Stall Holders
This is a list of the stalls that have already confirmed that they will be at this event.
"Heart on Display" - tombola
Knot a Yarn - various woollen items
C&J Crafts - Greetings cards and fabric crafts
Pretty Pieces - vintage items
Ian's Garden Accessories & Wooden Crafts - wooden items
Gary Baxter - home and giftware
Hazel's & Janet's Jewellery - jewellery
Jigs & Boo - dog collars, leads and accessories
Community First Responders - information stand
Feathers & Paws -dog accessories
Utility Warehouse - information stand
Kirk North - toys
Gem's Boutique - handmade fabric items
Children's Air Ambulance - information stand
Flamingo Paperie - handmade cards
Sian-Louise's Face Painting
Ed-Woods Lincs - wooden items
Simply Forever - Forever Living products
Handcrafted by Wendy - jewellery
East Anglian Air Ambulance - information stand
Pebble Crafts - slate and stone decor
Help for Heroes - information stand
Shining Dragonfly - embroidered pictures
Cheryl Bull - handcrafted items
Gitana's Henna Tattoos
Betty Louise Happy Hair Accessories
The Blissful Bathtime Company - bath bombs
Tropic Skincare - natural skincare products
Purple Poppies Boutique - handmade accessories
Jo Sews - stitched items
3 Dimensional Crafts - 3D printed products
White Watch Stanground - fire engine (if not called out to an emergency)
King of the Castles Entertainments - Bouncy Castles
Party Guest Lookalikes - children's characters
Charlie Cat - Golf & Soft play
Little Starfish Soft Play
Chris Gidman - Spiderman
Amir Shazz - ice cream
Cassy's Cabin - burger van
The Little Sweet Shop - sweets
Cake Kebab - cakes, smoothies, milkshakes, hot and cold drinks
The Gin & Fizz stop - adult beverages
LadyBex Candylicious - sweets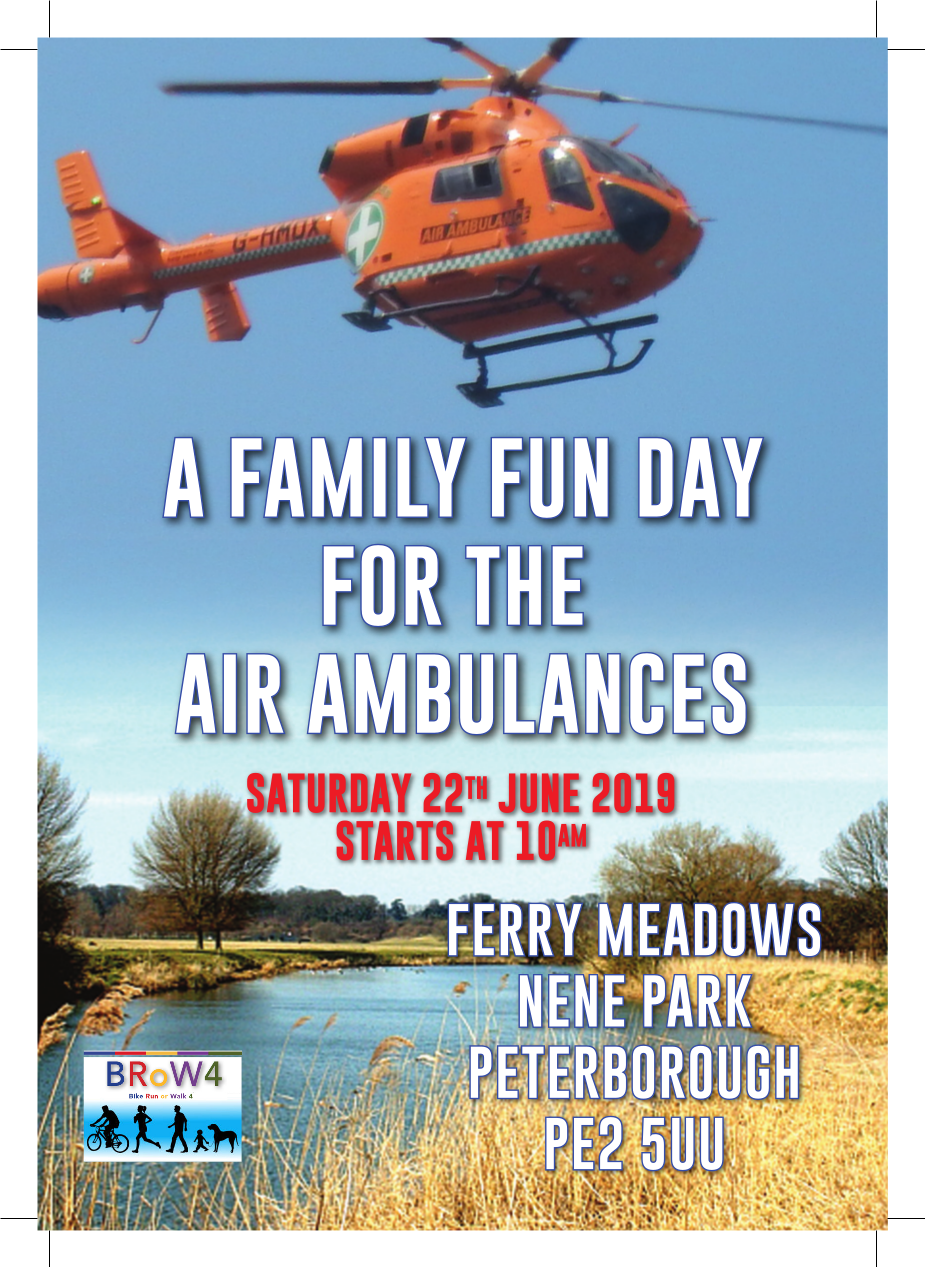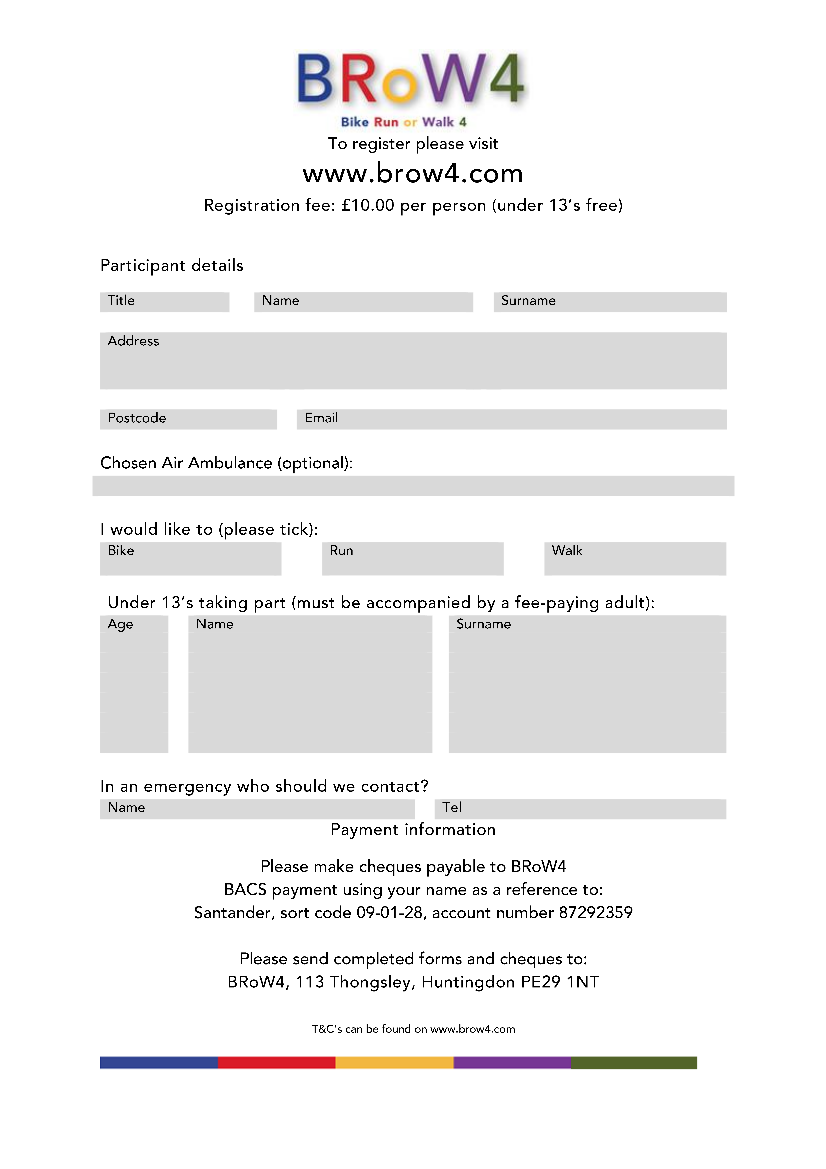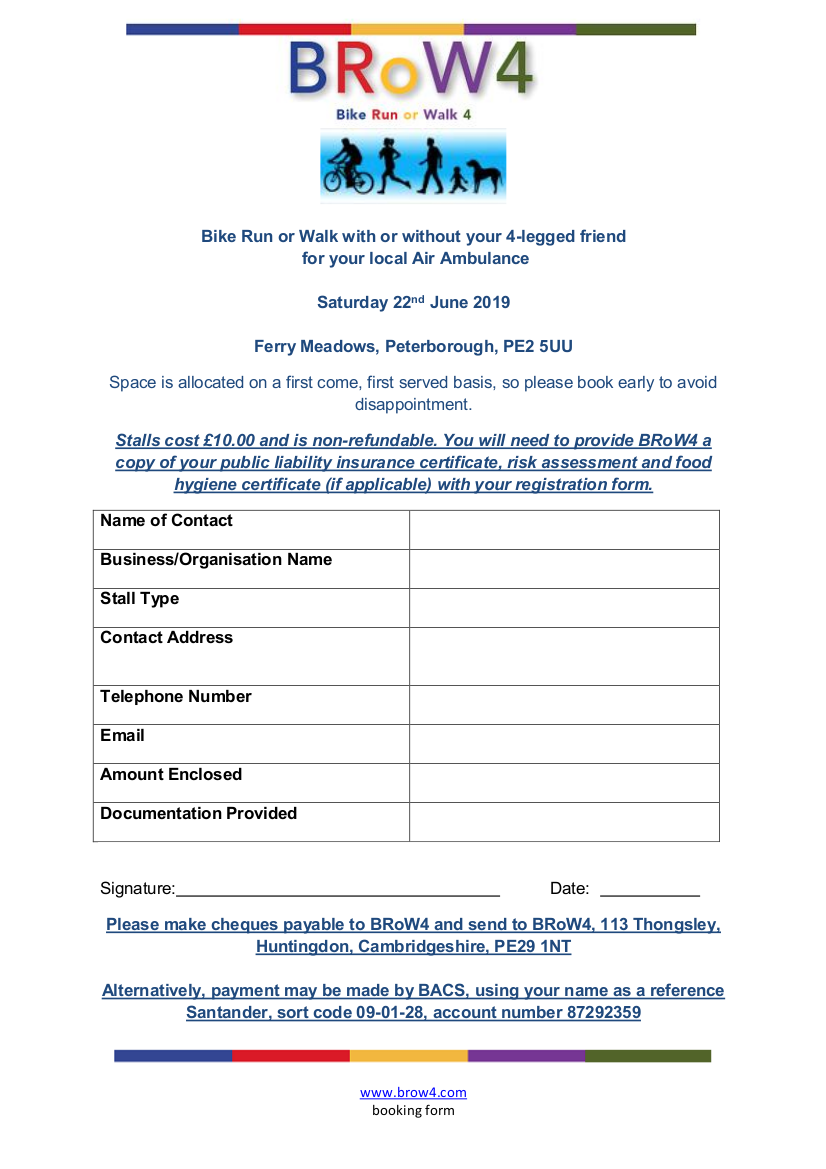 Want to know more, or have a form you'd like to send to us?
Please email any stall holder queries or paperwork to anna@brow4.com, with a subject of "Stall holder", or you can call Anna on 07828 471738. For any other queries, please email anna@brow4.com.
FAQ's
Q. Is there parking available? 
There is parking available, with the first hour £1.50 then an additional 50p for every hour you stay.
Q. Is there any way I can raise money for the air ambulance of my choice?
Contact us and we will give you a sponsorship form, and you can choose to bike, run or walk around Ferry Meadows to raise sponsorship money for whichever air ambulance you choose.