B

R

o

W

4

Guided Dog Walk, at Hinchingbrooke Park, Huntingdon, Sunday 6th January 2019
BRoW4 have organised a New Year's Dog Walk for the past three years to raise awareness and money for the Dogs Trust and Canine Partners. In 2018 we added two more dog charities, Medical Detection Dogs and Therapy Dogs Nationwide, to our list. We're delighted to be doing this event again in 2019, at Hinchingbrooke Country Park, Huntingdon, Cambridgeshire.
We also have stalls inside the Countryside Centre, and hot refreshments are on offer too, so if you don't have a dog or are unable to take part in a guided walk there is still something for you to enjoy. If you take part in the guided dog walk, the refreshments are included in the registration fee.
If you'd like to know more about this event, keep reading! We have a list of frequently asked questions for anyone wishing to join our guided walks, a registration form for walkers, and a stall holder form if you'd like to have a stall at our event.
We will also be updating this page frequently to show those stalls that we have already confirmed - so please do come back and check here regularly!
Thinking of taking part?
Our guided dog walk in 2019 is raising money for the Dogs Trust. If, however, you would like to raise money for a different dog charity, please contact us and we will send you a sponsor form. Our details are at the bottom of this page.
Our first guided walk takes place at 10am, and covers a route approximately 2 miles long. It can be very muddy and wet in January, so please bare this in mind if you are thinking of taking part, as it will probably not be suitable for those with prams, buggies, wheelchairs or mobility scooters. We also have guided walks on the hour every hour until our last walk of the day at 2pm, so you can choose the time that best suits you.
Stall Holders
This is a list of the stalls that have already confirmed that they will be at this event.
Pat's Preserves - Jams
Flamingo Paperie - homemade cards and wrap
Elemental Jewellery Design - sterling silver jewellery
Feathers & Paws - dog accesories
Cromwell Vets
Wood Green Animal Shelter
Felt & Crochet crafts
Shelterbox - craft and handknit items
Cake Kebab - Cakes, Shmoo milkshakes, hot and cold drinks
Body shop
Toys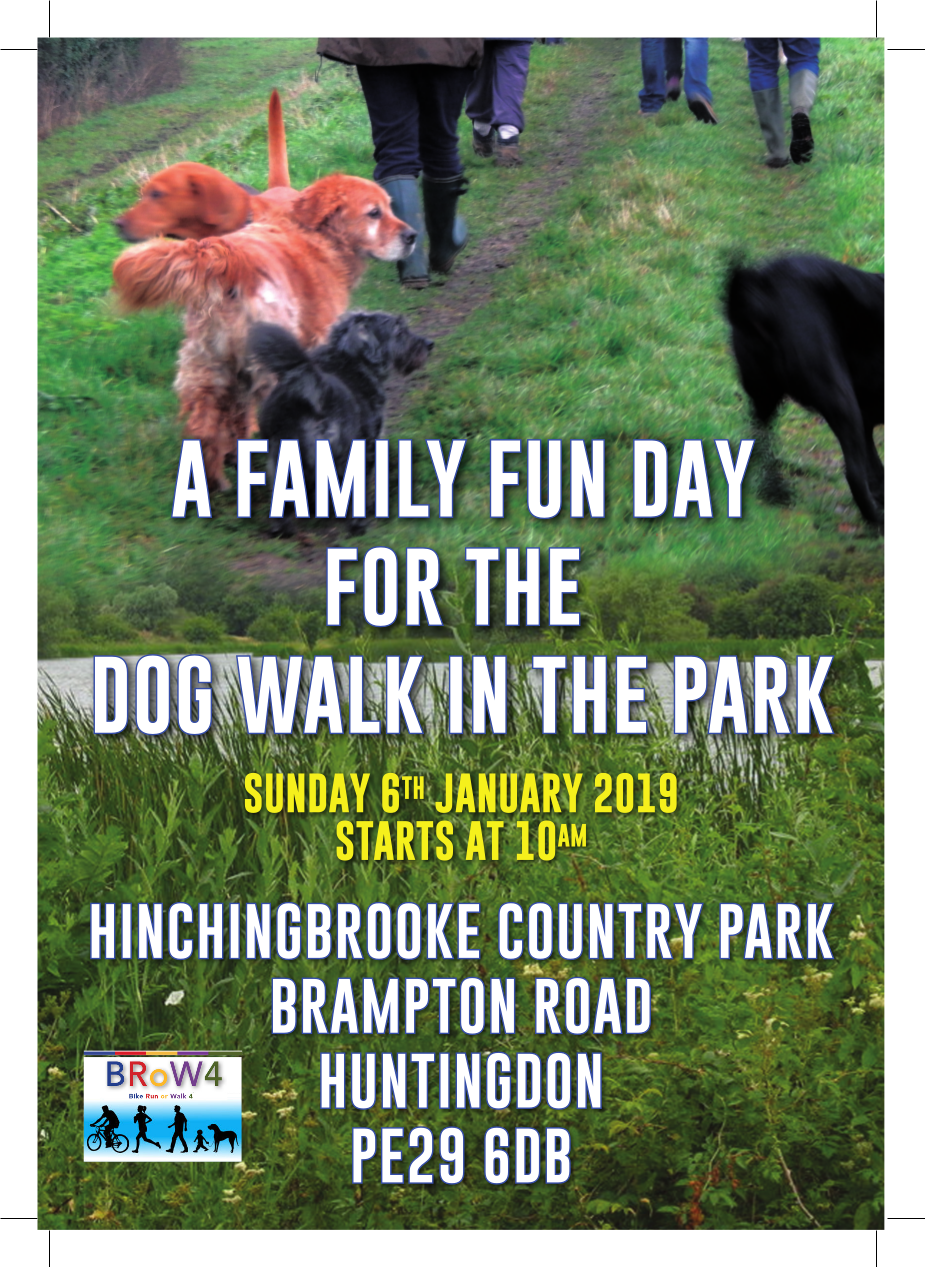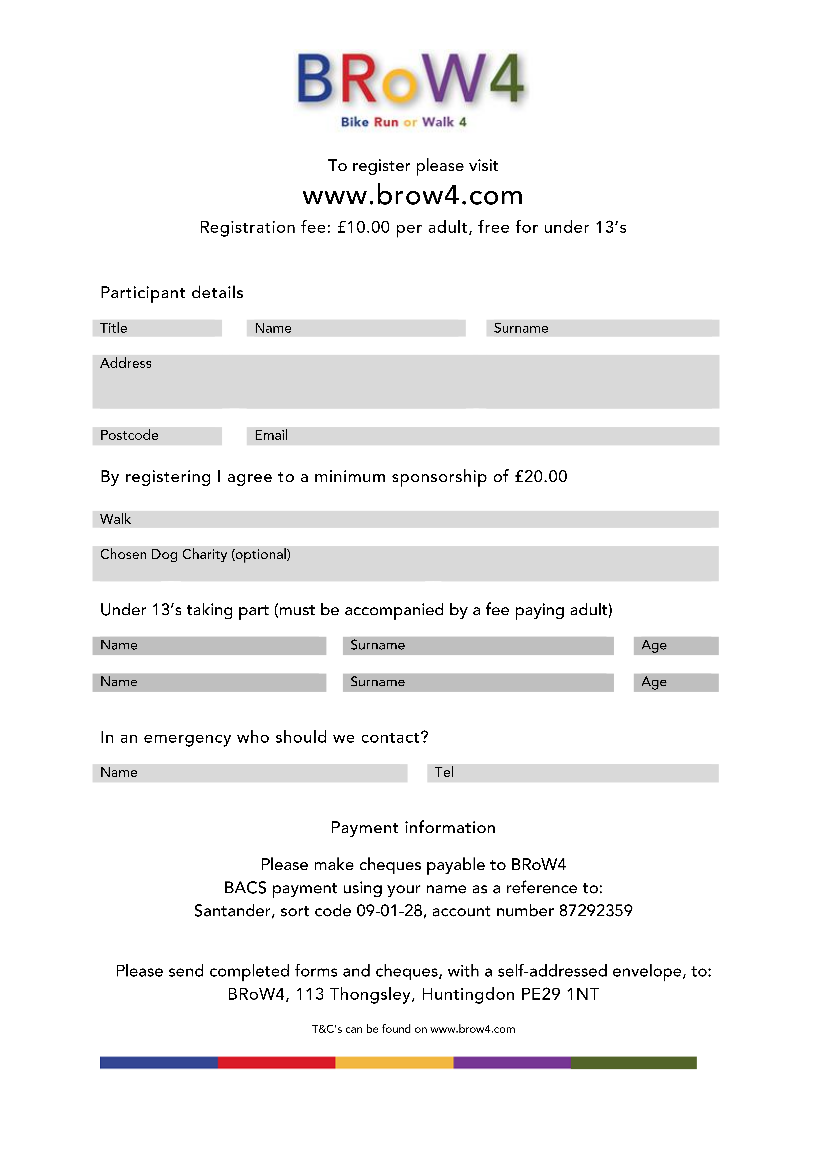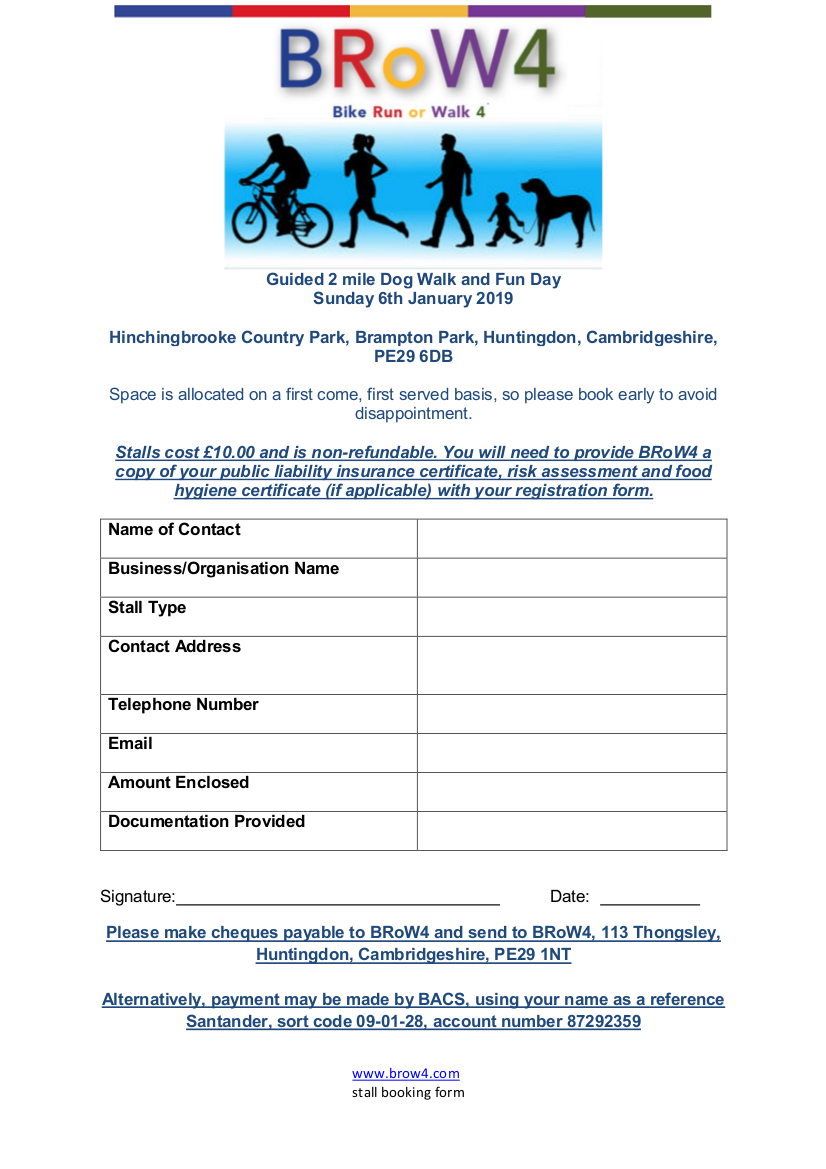 Want to know more, or have a form you'd like to send to us?
Please email any stall holder queries or paperwork to anna@brow4.com with the subject line "Stall Holder", or you can call Anna on 07828 471738. For any other queries, please email anna@brow4.com.
FAQ's
Q. Do I need to keep my dog on its lead?
Whilst you are taking part in an event organised by BRoW4 you need to keep your dog on its lead at all times. You are also responsible for cleaning up after your dog.
Q. Is there parking available?
Yes, there is parking available at Hinchingbrooke Country Park - a 6 hour maximum stay. £1.00 for 2 hours, £2.00 for 6 hours, disabled parking is free.
Q. Will I receive any additional information before the event?
Yes, You will receive confirmation of you registration, plus a sponsorship form should you wish to use it.  Two weeks before the event we will send out a pre-event pack either by mail or email, this  will include confirmation of entry, a directional map of the route you will be taking during your event, and a  map of the venue.