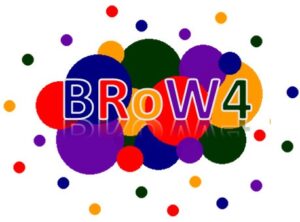 BRoW4 CIC needs your support or sponsorship in order to continue to hold events and raise money for UK charities. There are many ways that you can support us, either by volunteering at an event, taking part in an event, or by donating items that would be useful  to us at these events. Or you can sponsor our event an we will advertise you on our website, Facebook pages and advertise your banner at our events 
If you'd like to donate money – THANK YOU! We have several methods that you can use. Our bank details are below, or you can donate via Paypal or JustGiving by clicking on the logo or donate button below.
You can also raise funds for us when you shop online, by registering with easyfundraising. It does not cost you a penny extra, but major retailers such as Amazon will donate up to 1.50% of what you spend! Click on the easyfundraising logo below to register.
We have also opened an Amazon Wish list. These are items that we always need to continue to be able to raise money and awareness for the charities that we support and also to help with the keeping the children and families entertained the local community events that when we attend. 
Santander Bank
Sort Code:  09-01-28
Account Number:  87292359