Newsletter – May 2019
May has had some lovely sunny weather and the BRoW4 volunteers have been making the most of it, getting out into the sunshine as often as they can! Read on to find out more…
Wednesday 8 May 2019

Huntingdonshire Society for the Blind's Coffee Morning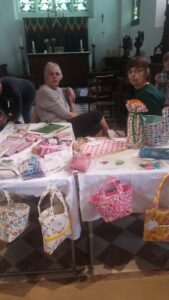 On Wednesday 8th May BRoW4 attended the Huntingdonshire Society for the Blind's Coffee Morning, and took along a selection of items lovingly handcrafted by some of the BRoW4 volunteers. There are some very talented people in the Huntingdonshire area – these bags look lovely, and these pens are a very popular gift choice!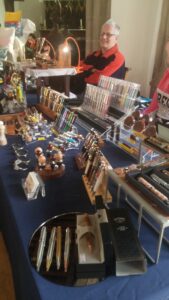 Saturday 11 May and Sunday 12 May 2019

Yaxley Festival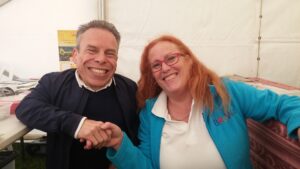 Saturday the 11th of May and Sunday the 12th was the weekend of the Yaxley Festival. Anna and Lesley had a fantastic weekend there raising money and awareness for the air ambulances, and they had one very special visitor to their stall – none other than Warwick Davis! He was lovely and very interested in what we do at BRoW4, and we hope to see him again next year!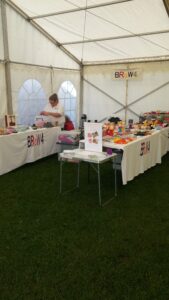 Easyfundraising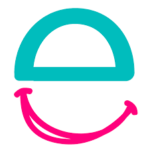 Have you signed up with easyfundraising yet? It won't add a penny to your online shopping bills, but it will donate pennies to BRoW4! Register using the link below
www.easyfundraising.org.uk/causes/brow4/
Sunday 19 May 2019
Ramsey Fen Fair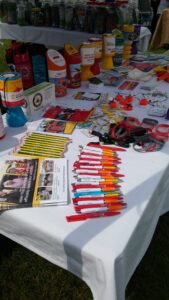 Sunday the 19th took Anna to the Ramsey Fen Fair, where we had a whole table full of merchandise from air ambulances across the UK available to purchase, as well as our usual teddy and jar tombola games. Anna also had the chance to explore the Ramsey Rural Museum a bit, and loved the rooms set up as they would have been back in the 1940's!
Saturday 25 May and Sunday 26 May 2019
Hartford Mill Family Fun Day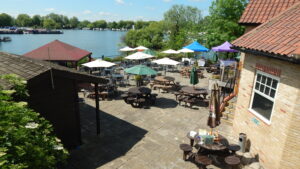 The bank holiday weekend at the end of the month had some glorious sunshine, and at Hartford Mill there was some gorgeous scenery to go with it! As ever, our jar tombola game was a hit with the public, and we hope that the event raised lots of money for MacMillan. One member of staff managed to get a workout while at work – saves having to go to the gym later!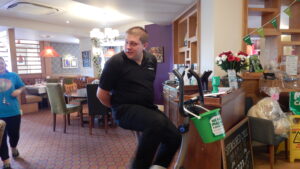 Wednesday 29 May 2019
Craft Market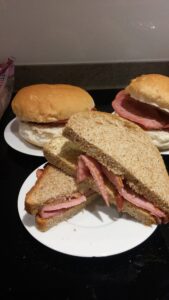 As ever, the last Wednesday of the month saw the BRoW4 volunteers at the Craft Market, at All Saints Church, Huntingdon, providing refreshments to stall holders and visitors alike. Anna's bacon rolls are now a thing of legend, and are easily our most popular item each month. If you haven't tried one yet, pop in next month – it'll be worth the visit!
Volunteers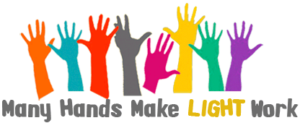 Do you have a few hours to spare at weekends? Or perhaps just a couple of hours each week? Why not volunteer with BRoW4? It's not just about helping out at events (though this is a large part of it), it's also about helping to prepare for the events by naming teddies and filling jars. This month we've had to fill the jars several times, and it's lovely to see the children's faces when they see what is inside them. If you can help, please call Anna on 07828 471738 or email anna@brow4.com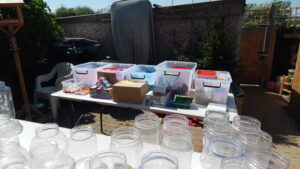 B

R

o

W

4

's Family Fun Day for the Air Ambulances

Remember, June is the month BRoW4's Family Fun Day for the Air Ambulances! It's happening on Saturday the 22nd at Ferry Meadows, Peterborough, starting at 10:00am. We're crossing our fingers (and toes!) for good weather, so that you can come along and enjoy the live bands, stalls, kids entertainment, food and drink. We really do have something for everyone, and all the money we raise at this event will go a long way to supporting the air ambulance charities around the UK. See you  there!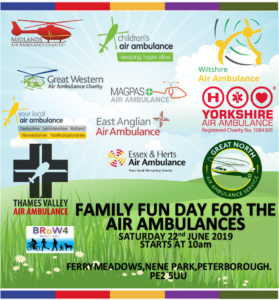 Past Newsletters