Newsletter – September 2019
BRoW4 has had a very busy summer and has attended many local events! We've been impressed with displays in the air, in the ground and on the water – read on to find out more.
Saturday 1 June 2019

HUNTINGDON COMMUNITY PLANT & TREE NURSERY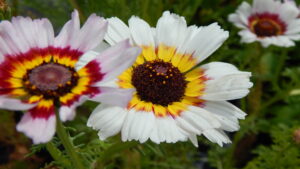 On Saturday 1st June BRoW4 was at the Huntingdon Community Plant & Tree Nursery for it's annual open day, where the plants and flowers were at their very best. Anna loved looking at the colourful display as she played our popular jar game with the local children!
Sunday 2 June 2019

ALCONBURY WESTON FAMILY FUN DAY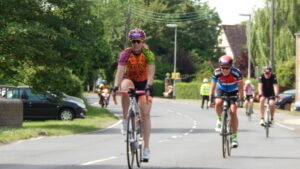 Sunday the 2nd June took Anna to Alconbury Weston for their Family Fun Day, where she had the added bonus of the Tour de Cambridgeshire passing through the village!
Sunday 9 June 2019

FAMILY FUN DAY AT THE GEORGE
On Sunday 9th June, BRoW4 organised a family fun day at The George in Huntingdon to raise money for MacMillan. These stall holders joined into the spirit of the day and had a fantastic time, raising nearly £200!
Wednesday 12 June 2019

HUNTINGDONSHIRE SOCIETY FOR THE BLIND'S COFFEE MORNING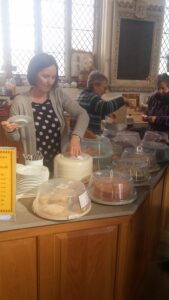 On Wednesday 12th June, the lovely ladies of the Huntingdonshire Society for the Blind held a coffee morning, and Anna had a stall there to sell our handcrafted items. The cakes that these ladies in the kitchen were serving looked delicious!
Wednesday 26 June 2019

CRAFT MARKET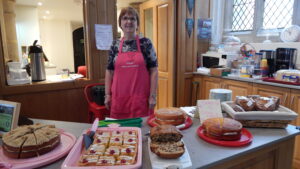 On Wednesday 26th June we had a new volunteer helping us out in the kitchen at the monthly Craft Market – meet the lovely Elaine from Cottage Cakes! Her cakes are always delicious, so come and try them in October!
Saturday 29 June 2019

PETERBOROUGH ARMED FORCES DAY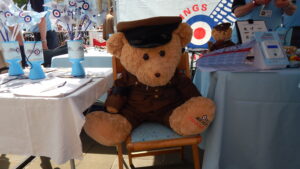 Our last event in June was Peterborough's Armed Forces Day on Saturday 29th, where many groups that support our Armed Forces had gazebos, motorbikes and entertainment for people to enjoy, and to raise money for hero's past and present. We loved this teddy mascot that the RAF had!
Saturday 6 July 2019

ROBIN HOOD DAY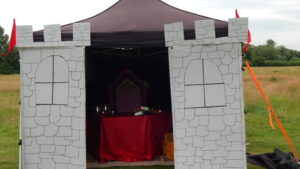 On Saturday 6th July BRoW4 had a gazebo at Hinchingbrooke Country Park's Robin Hood Day. Children got to meet some of the popular characters from the famous story, visit the Sheriff of Nottingham's Castle, and watch the Disney version of the film, as well as play games such as our popular jar tombola, archery and more!
Sunday 7 July 2019

ELY AQUAFEST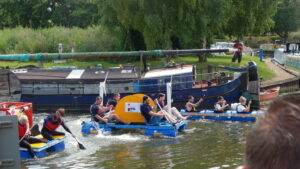 Sunday 7th July was the day of the Ely Aquafest.  It was a lovely sunny day, which meant that those people taking part in the river events dried off quickly. Anna had lots of fun watching the home-made rafts racing along the river!
Friday 12 July 2019

CAMBOURNE PRE-SCHOOL SUMMER FETE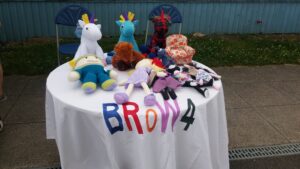 Friday 12th July took Anna to Cambourne Pre-School's summer fete, where there were lots of games and bouncy castles to entertain the children. Anna took along some hand-crafted items that have been made by BRoW4's hardworking volunteers. We have more available on our website www.brow4.com/craft – please do check it out!
Saturday 13 & Sunday 14 July 2019

ST IVES CARNIVAL & PROMS IN THE PARK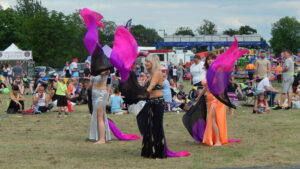 Saturday 13th July was the day of St Ives' Carnival, and Sunday 14th July was St Ives' Proms in the Park. The colourful fans of this belly dancing performance caught Anna's and Jo's eyes on the Saturday, and on the Sunday Anna, Lesley and several members of the public enjoyed the live music.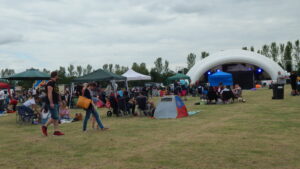 Saturday 17 & Sunday 18 August 2019

RAMSEY 1940's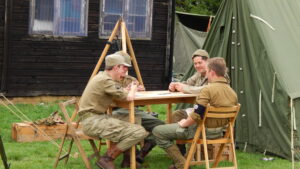 Saturday 17th and Sunday 18th August was the popular Ramsey 1940's weekend, where lots of people get into the 1940's spirit by dressing up in the outfits of the time. This group of soldiers looked like they were having fun playing cards!
Saturday 24 August 2019

HINCHINGBROOKE COUNTRY PARK'S BIG BIRTHDAY BASH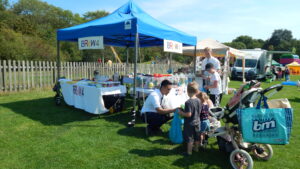 Saturday 24th August was Hinchingbrooke Country Park's Big Birthday event, marking the park's 30th birthday, and these two lovely young gentlemen, Elder Jacob Ford and Elder Peuy Kitsawat, helped Anna with our jar tombola game, putting many happy smiles onto the faces of our young customers.
Sunday 25 August 2019

LITTLE GRANSDEN AIR SHOW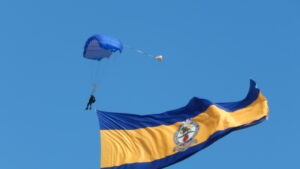 Sunday 25th August was the annual Little Gransden Air Show, where some very brave people jumped out of airplanes to entertain the crowds! Some, like this one, displayed flags and others performed tricks while releasing coloured smoke and making patterns in the sky. The weather was fantastic, and it was the perfect end to the summer season.
Past Newsletters