Newsletter – November 2018
Just a few weeks left of 2018 – my how the time has flown! At BRoW4 HQ we;'re busy planning our 2019 events and have been having a wonderful time getting into the Christmas spirit at the various Christmas fairs we have been to – read on to find out more!
Wednesday 14th November 2018
Huntingdonshire Blind Society's CoffeE &

Craft

Morning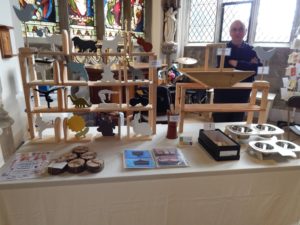 Our first event in November was the Hunts Blind Society coffee and craft morning on Wednesday the 14th. BRoW4 is very proud to support this worthwhile cause on the second Wednesday of every month, and we always have a good selection of handmade items, so do pop in and see us!
Saturday 17th November 2018
Cat's Protection christmas fair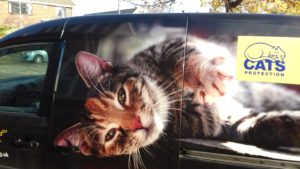 On Saturday 17th November BRoW4 attended the Cat's Protection Christmas Fair at the St Andrew's Centre, Histon. This van took our breath away with it's stunning art work – so unusual! Anna took our popular jar tombola, and came back with several empty jars to refill!
Saturday 24th November 2018
Ely beet sports and social club's christmas fair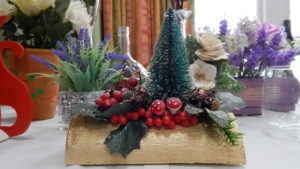 Saturday 24th November was the day of the Ely Beet Sports and Social Club's Christmas Fair. We loved seeing the festive makes some of the other stallholders brought along, and this miniature Christmas tree caught our eye!
Sunday 25th November 2018
Mereside Village Association's Christmas Fayre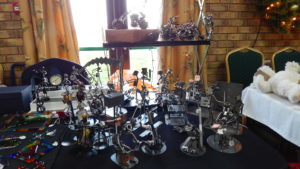 The very next day we were at Mereside Village Association's Christmas Fayre, with yet more fun and festive displays. These funky looking robots were very different, and put a smile onto people's faces when they saw them.
Thursday 28th November to Sunday 2nd December 2018
HUNTINGDON CHRISTMAS MARKET AND LIGHT SWITCH ON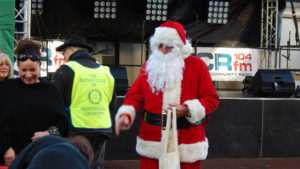 From Thursday 28th November to Sunday 2nd December, Huntingdon had a Christmas Market and Lights Switch On event. Santa proved very popular with the children – so popular that the elves had to hurry back to the North Pole to fetch some more presents!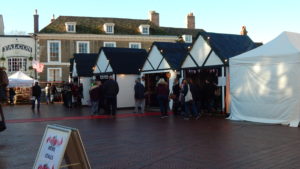 The market square looked very festive with lots of wooden chalets selling Christmas gifts, and inside All Saints Church, local craftsmen had stalls selling their Christmas makes. There were some beautiful pieces available!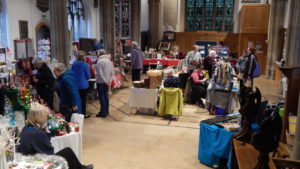 Anna made some amazing bacon butties and some very tasty cakes to warm people up when they came in out of the cold, and the BRoW4 volunteers were kept very busy serving these over the four day event!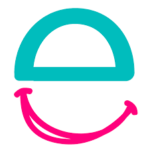 Not many shopping days left before Christmas! Please help us by shopping via easyfundraising, who donate to us when you shop with major retailers. Register using the link below.
https://www.easyfundraising.org.uk/causes/brow4/
Sunday 6th January 2019
FAMILY FUN DAY AND GUIDED DOG WALK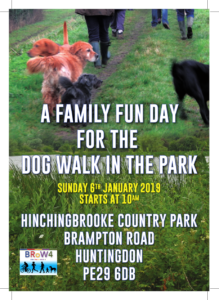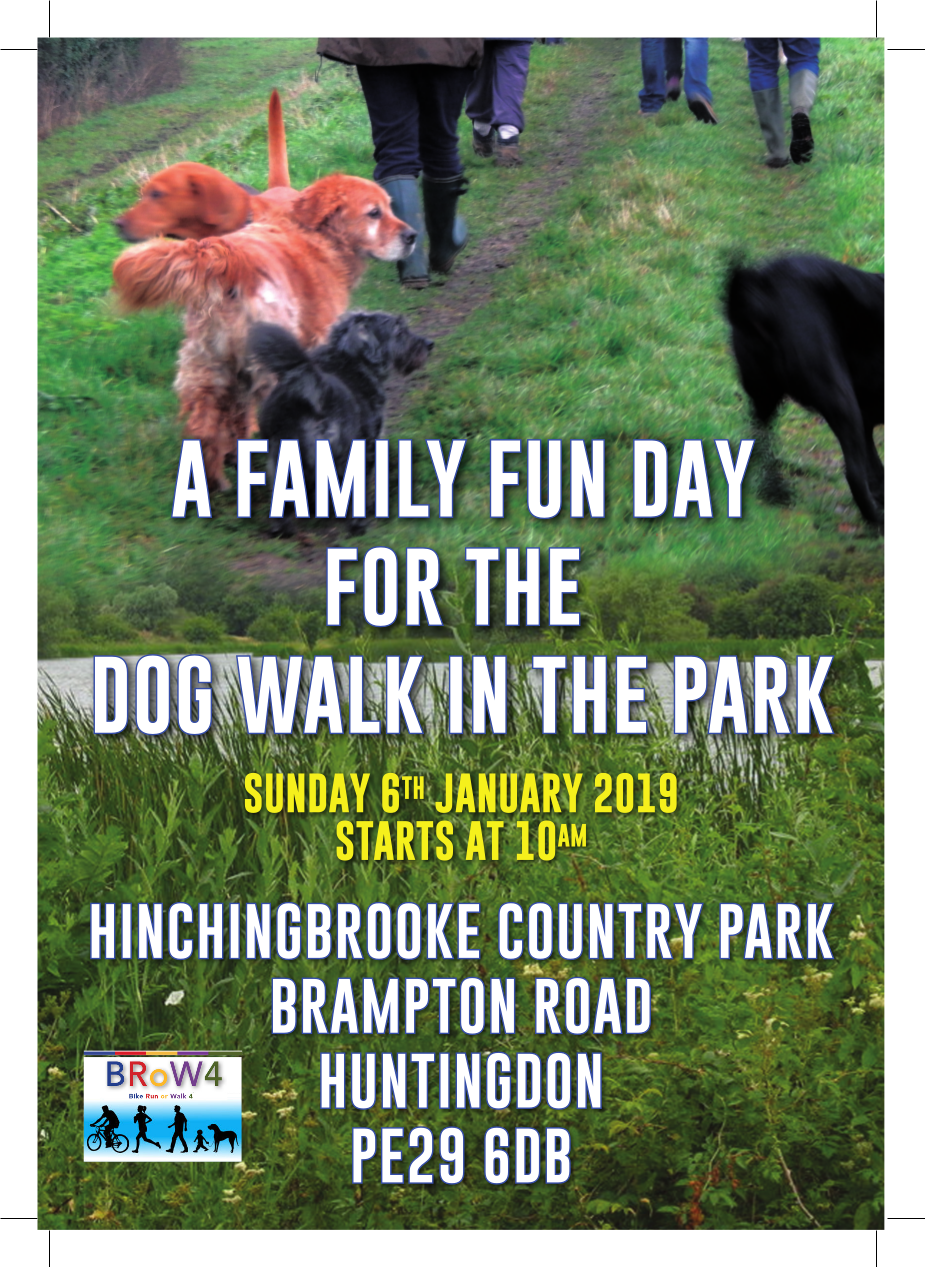 Our annual guided dog walk is fast approaching, and we are still on the hunt for stalls to go inside the Countryside Centre, at Hinchingbrooke Park, Huntingdon. If you, or someone you know, is interested in having a stall, please email anna@brow4.com for a stall booking form.
If you are wanting to take part in the walk, please dress appropriately for the weather! The first walk takes place at 10am, and then one every hour on the hour until the last walk at 2pm so you can choose a time to suit you. Come along and burn off a few of the dreaded Christmas calories!
Past Newsletters